The Kizazi Fund, an initiative of Bridge Kids International, is a child-focused, culturally-based, community-centered system for generational wealth building. The Kizazi Fund engages families, the non-profit and philanthropic communities, financial institutions and individuals to build generational wealth in Black families.


The Kizazi Fund allows families to establish accounts for children that will grow with them from birth to young adulthood. Families contribute a modest amount to the accounts annually, the money is held in trust and the funds are collectively invested to improve growth potential. Families and young people are supported through the Kizazi Network of partner organizations and Kizazi Coaches. In addition, young people are rewarded for positive actions with Kizazi Credits, annual deposits into their accounts, preparing them to make responsible life choices and become productive community members.



| | | |
| --- | --- | --- |
| establish kizazi account | child and account grow together | transfer to young adult |
Ages 0-13
Family establishes account for child with $250 minimum.
Families and children become part of the Kizazi Community.


Ages 0-18
Family continues to deposit money into child savings and investments accounts. Additional funds are held and collectively invested.
Kizazi Credits reward positive actions and help accounts grow more rapidly.
Kizazi Network supports families and nurtures children as they grow to be healthy, responsible adults.




Ages 18-30
Young adults make a plan and, upon approval, money is transferred for Education & Training, Home/Property Ownership, or Entrepreneurship to build wealth and impact the next generation.

---
join the kizazi fund family!

---
events
---

​2020-21 Pilot results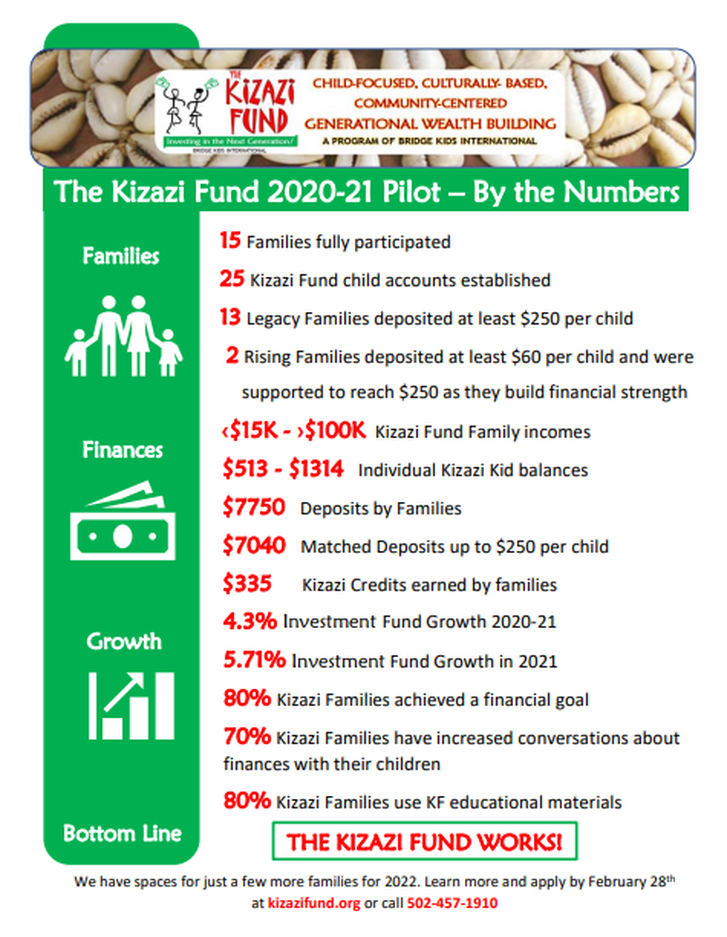 ---



​thank you!
Thank you to the James Graham Brown Foundation, Metro United Way and the Community Foundation of Louisville Health Equity Fund for getting us started. Now the Humana Foundation ($180,000), Metro United Way Innovation Fund ($29,000) and Louisville Urban League A Path Forward ($20,000) have stepped up to invest in growing the Kizazi Fund in our first full year and beyond. JP Morgan Chase ($120,000) is supporting the Kizazi Fund Education Project to design and implement a comprehensive financial education program from childhood to senior years. We can't be more grateful to our friends in the Louisville community and around the country for every word of encouragement and powerful action on behalf of the Kizazi Fund!

​

why we need the kizazi fund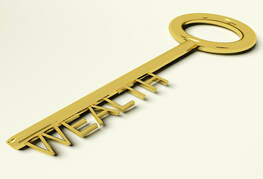 There is a persistent wealth gap between Blacks and Whites in the United States.
While some gains have been made in the past 30 years, change is slow and the wealth gap between Blacks and Whites is still close to 90%.
While a college education improves income regardless of ethnicity, it does not significantly change the wealth gap.
Because wealth is generational, the structural and systemic racism that African-Americans have suffered since they arrived in the U.S., make changing the equation a challenging task.
Our efforts to create Black wealth that can benefit generation after generation will have to be creative to intentionally impact individuals, families and systems.
---
changing the equation

The Kizazi Fund seeks to shift the economic impact of generational racism by establishing a child-focused, culturally-based, community-centered system for generational wealth building. By harnessing the collective strength of the community, the Kizazi Fund establishes a system of wealth building accessible to families of even modest means and most powerfully, changes the mindset and then the culture around long-term planning for generational wealth.



Kizazi fund pilot



The Kizazi Fund pilot year is under way! The pilot began in November 2020 with 37 Kizazi Kids from 21 families!



Kizazi fund wealth wednesdays



Each Wednesday the Kizazi Fund

will bring information, tips and stories to inspire and accompany you on the road to building financial strength and generational wealth. We are so excited to be on this journey together!